Background
Since the crash landing of the meteorite, Pegh has been living the dream. Not only does he no longer have to spend his days in a cage resembling an ice cap, but he can finally devote himself to his favorite hobby - baseball. The only problem is that no one wants to play with him. But that doesn't matter; he can always use his bat to beat up the bad guys...
Advantages & Disadvantages
Advantages:
His base power is 7, which is very good for a 2*.
His ability removes three damage from your opponent.
The minimum for his ability is two, which is very low.
Because of his low damage, he doesn't have to worry about damage reducers.
He is a 2*, so he makes room in your deck.
The clan bonus gives you an extra two life if you win with him.
Disadvantages:
His main weakness is SOA, since he is only left with his one damage, which won't help you much.
He has competition from the other 2* in Jungo.
His only function is to reduce damage, so he does not make a very good bluff.
Strategy
Trivia
Card Artwork
Full Artwork
LV 1.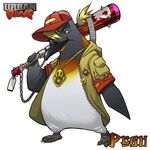 LV 2.
Ad blocker interference detected!
Wikia is a free-to-use site that makes money from advertising. We have a modified experience for viewers using ad blockers

Wikia is not accessible if you've made further modifications. Remove the custom ad blocker rule(s) and the page will load as expected.