Background
Phyllis, the eternal romantic, likes nothing better than great love stories and lavish weddings. And as she operates on the basis that if you want something done it's better to do it yourself, she sets about using her love filters to create ready made couples who would never have got together otherwise and who generally split up amid a storm of tears and shouting once the wedding's over.
Advantages & Disadvantages
Advantages:
Disadvantages:
Trivia
Card Artwork
LV 1.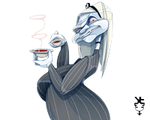 LV 2.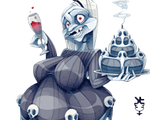 Full Artwork
Ad blocker interference detected!
Wikia is a free-to-use site that makes money from advertising. We have a modified experience for viewers using ad blockers

Wikia is not accessible if you've made further modifications. Remove the custom ad blocker rule(s) and the page will load as expected.