Background
Prince Jr reigns supreme over the Clint City boxing scene. In his office on the top floor of Borgia's Palace, it is he who decides who will win and who will lose before heading down to the ground floor to place his bets. In over thirty years in the job, he's only ever slipped up once and since then there's been a price on Hammer's head among the Montana.
Advantages & Disadvantages
Advantages:
Disadvantages:
Trivia
Prince Jr. is a take-off of boxing promoter, Don King (if he were white.)
His first level artwork resembles the character, Brick Top, from the gangster movie Snatch.
It is possible that he had something to do with the creation of the Berzerk clan since he bears a slight resemblance to the man who sprayed the gas.
Card Artwork
LV 1.
LV 2.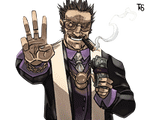 Full Artwork
Ad blocker interference detected!
Wikia is a free-to-use site that makes money from advertising. We have a modified experience for viewers using ad blockers

Wikia is not accessible if you've made further modifications. Remove the custom ad blocker rule(s) and the page will load as expected.