Background
Sabotage and infiltration expert, Python is a true legend among the members of the Junta. Some even say that he doesn't exist but is just made up by the General to scare the rival clans. But unfortunately for the Junta's enemies, Python is very real...
Advantages & Disadvantages
Advantages:
Disadvantages:
Trivia
Python is a take-off of Solid Snake from the Metal Gear video game series.
He is also based off of Snake Plissken, from John Carpenter's Escape from New York/ Escape from L.A. movies. The outfit he is wearing is the exact one that Plissken wears throughout Escape from L.A.
Python is also a reference to the Colt Python.
Card Artwork
LV 5.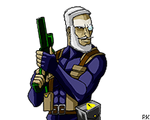 Full Artwork
External links
Ad blocker interference detected!
Wikia is a free-to-use site that makes money from advertising. We have a modified experience for viewers using ad blockers

Wikia is not accessible if you've made further modifications. Remove the custom ad blocker rule(s) and the page will load as expected.