Background
To start off with Qubik was no more than Nobrocybix's ultra high-tech portable stereo. But of course he couldn't help making improvements to it, which ended up with him equipping Qubik with an artificial intelligence that made him able to mix as well as any human (fortunately DJ Korr is no ordinary human )... And the sonic cannons are just a little added bonus for when the Junkz get into trouble.
Involvement
Strategy
Quotes
Trivia
He is based off the canceled kids' show, Cubix, which is about a robot made out of cubes who would help his master fight off against evil.
Card Artwork
LV 4.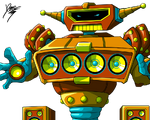 Full Artwork
External links
Ad blocker interference detected!
Wikia is a free-to-use site that makes money from advertising. We have a modified experience for viewers using ad blockers

Wikia is not accessible if you've made further modifications. Remove the custom ad blocker rule(s) and the page will load as expected.