Background
Solitary and taciturn, Radek has never really enjoyed the company of others and although he sometimes agrees to join forces with the Jungo, that hasn't stopped him setting up home in an abandoned cave in the middle of the old Zoo.
Advantages & Disadvantages
Advantages:
Disadvantages:
Trivia
He is considered by many fans to be a 'lone wolf'.
Card Artwork
LV 3.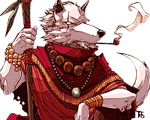 Full Artwork
Ad blocker interference detected!
Wikia is a free-to-use site that makes money from advertising. We have a modified experience for viewers using ad blockers

Wikia is not accessible if you've made further modifications. Remove the custom ad blocker rule(s) and the page will load as expected.