Background
Razor doesn't give a damn about Tanereva's philosophy. To him all that counts is surfing. As long as there's sun and waves, nothing else matters. As a native of a South Pacific atoll, he's campaigning for them to start underwater nuclear testing again, so he can finally ride a wave that's worthy of him.
Trivia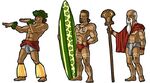 Fan art
Card Artwork
Full Artwork
Ad blocker interference detected!
Wikia is a free-to-use site that makes money from advertising. We have a modified experience for viewers using ad blockers

Wikia is not accessible if you've made further modifications. Remove the custom ad blocker rule(s) and the page will load as expected.