Background
After working every street in Clint City, Rosa became the town's most prized stripper. With all the money she earned, she was able to emancipate herself from Flesh Pimp's protection and become a paid-up member of the Montanas. The private parties she organizes every week at Borgia's Palace make the Clan a fortune!
Missions
Thorny Rose: Win 15 fights by finishing with a knock-out from Rosa (07/01/2011 - 06/02/2011)
Advantages & Disadvantages
Advantages:
Her base damage is 6, which is good for a 4*.
Her ability takes away one life from your opponent each turn, after you've won with her.
The minimum for her ability is 1, which is low.
Her ability, along with the clan bonus, makes her a good bluff against your opponent.
The clan bonus takes away 12 attack from your opponent, which helps in low-pill fights.
Disadvantages:
Her base power is 6, which is low for a 4*.
She is weak against SoA, since it takes away her ability and lowers her value.
She is a 4*, so she takes up room in your deck.
She has competition from the other 4* in Montana.
Webcomic
Rosa (3rd level) has made only one appearance in "Plots and Intrigues" when she assisted Edd in negotiating with the Uppers. She also comes face-to-face with her sister, Rubie, and apparently neither one is on good terms with the other.
Trivia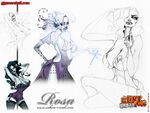 Card Artwork
Full Artwork
Ad blocker interference detected!
Wikia is a free-to-use site that makes money from advertising. We have a modified experience for viewers using ad blockers

Wikia is not accessible if you've made further modifications. Remove the custom ad blocker rule(s) and the page will load as expected.