<format> Junkz</format>
       </data>
       <data source="ability">
           <label> Ability</label>
           <default>Unknown</default>
       </data>
       <data source="bonus">
           <label> Bonus</label>
           <default>Attack +8</default>
       </data>
       <data source="rarity">
           <label>Rarity</label>
           <default>Unknown</default>
           <format>Rare</format>
       </data>
       <data source="gender">
           <label>Gender</label>
           <default>Unknown</default>
           <format> Male</format>
       </data>
   </group>
   <group>
       <header>4 Stars (

★★★★

)</header>
       <data source="level1">
           <label>Stats Lv 1</label>
           <format> 3  2 </format>
       </data>
       <data source="level2">
           <label>Stats Lv 2</label>
           <format> 3  4 </format>
       </data>
       <data source="level3">
           <label>Stats Lv 3</label>
           <format> 6  4 </format>
       </data>
       <data source="level4">
           <label>Stats Lv 4</label>
           <format> 6  6 (Gains Ability)</format>
       </data>
       <data source="level5">
           <label>Stats Lv 5</label>
           <format>    </format>
       </data>
   </group>
   <group>
       <header>Meta Info</header>
       <data source="released">
           <label>Released</label>
           <default>Unknown</default>
       </data>
       <data source="retired">
           <label>Retired</label>
       </data>
       <data source="artist">
           <label>Artist</label>
           <default>Unknown</default>
       </data>
   </group>

</infobox>
Background
For the perfect rave you need: one or two good DJs, people up for dancing, vitamin drinks to help them make it through the night and above all a lot of really heavy gear that needs to be hefted around, set up, taken down, moved and set up all over again. And that's Rowdy's trip…
Webcomic
Rowdy was the bodyguard outside DJ Korr Cr's dressing room. He also was one of the characters in the battle against the Uppers. He also served as the elevator repair man at Burt's Paradice Hotel.
Missions
Audio Attack: Win 100 rounds with Rowdy
Advantages & Disadvantages
Advantages:
Disadvantages:
Strategy
He is best used with few Pillz, as his ability and bonus give him up to a 20 attack boost. His attack increases up to 26, if you have Hugo in your hand.
Quotes
"Yo, have some respect for the Godfather of Mix!" - From the Pillz Hunt
Trivia
His name is a play on the title of roady, a person whose job is to set up, take down, and shift equipment for a band.
His name could also mean someone who is loud or uncontrollable.
Card Artwork
LV 4.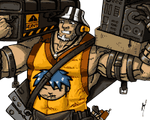 Full Artwork