| | |
| --- | --- |
| Stars | 4 |
| Stats Lv 1 | 2/1 |
| Stats Lv 2 | 7/1(Gains Ability) |
| Stats Lv 3 | 7/3 |
| Stats Lv 4 | 7/4 |
Background
To steal one of Ielena's ancient books of magic, you'd either have to be a bit stupid or have an insatiable desire for the occult. After escaping Nistarok's fangs and the guards protecting the Nightmare Manor, Russel was finally struck down by the curse protecting the ancient tome and is now a werewolf at the Clan's beck and call. So let that be a lesson to one and all - no one steals from the Nightmare clan and gets away with it!
Advantages & Disadvantages
Advantages:
Disadvantages:
Trivia
His name could be a homage to Jack Russell who is the antihero, Werewolf By Night.
He is the first werewolf that was recruited into the ranks of the Nightmare, a feat that wasn't thought up by the Nightmare clan, though there was a big demand for a werewolf member among fans for a long time.
Card Artwork
LV 4.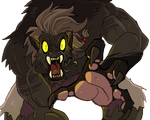 Full Artwork
Ad blocker interference detected!
Wikia is a free-to-use site that makes money from advertising. We have a modified experience for viewers using ad blockers

Wikia is not accessible if you've made further modifications. Remove the custom ad blocker rule(s) and the page will load as expected.