Background
Blind since birth, Ryuichi became an orphan at the tender age of 3 when his parents died from an unusual case of food poisoning caused by a pizza that had gone off (Ryuichi has always suspected the Montana were behind it). But just like his father before him Ryuichi holds within him the power of the Jade Dragon and decides to ask the Fang Pi to help him master it.
Web comic
This card hasn't appeared in a web comic yet.
Missions
Advantages and Disadvantages
Advantages:
Disadvantages:
Tactics
Trivia
Card Artwork
LV 4.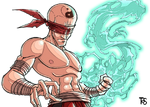 Full Artwork
LV 4.
Useful links
Ad blocker interference detected!
Wikia is a free-to-use site that makes money from advertising. We have a modified experience for viewers using ad blockers

Wikia is not accessible if you've made further modifications. Remove the custom ad blocker rule(s) and the page will load as expected.