Background
Beneath the veneer of Hong Kong's cinema tycoon, hides an amazing fighter. Indeed, despite his unattractive appearance which has earned him the nickname of "wrinkly walrus", Saï is a Fang Pi Kung Fu master. A self-taught martial arts champ, he joined the clan to make his dream come true: he wants to make millions by making a fitness video starring Lost Hog.
Advantages & Disadvantages
Advantages:
Disadvantages:
Trivia
Sai San is currently under investigation by Zhang of Sentinel for possible ties to the Hong Kong underworld.
His third level pic is a take-off on Goku in Super Saiyan form (Dragonball Z).
In Khann's profile it was mentioned that he took part in the Hunter Games the year before Khann, and did horribly.
Card Artwork
LV 4.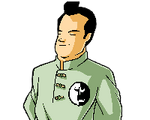 Full Artwork
Ad blocker interference detected!
Wikia is a free-to-use site that makes money from advertising. We have a modified experience for viewers using ad blockers

Wikia is not accessible if you've made further modifications. Remove the custom ad blocker rule(s) and the page will load as expected.