Background
Fascinated by waves, sun and surfers' toned bods, Sandy combs the beaches. As the Ulu Watu's mascot, she wants to learn how to surf but typhoons caused by global warming make the learning process a little arduous. So she decides to help the Ulu Watu in their fight to protect the environment.
Card Artwork
LV 1.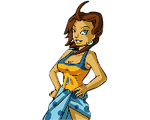 LV 2.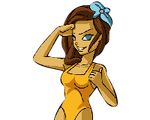 Full Artwork
Ad blocker interference detected!
Wikia is a free-to-use site that makes money from advertising. We have a modified experience for viewers using ad blockers

Wikia is not accessible if you've made further modifications. Remove the custom ad blocker rule(s) and the page will load as expected.