Background
Patient and meticulous explorer, Scopica searches the old Clint City Zoo for signs of animals affected by the meteorite's radiation who, rather than joining the Jungo, decided to hide and live in isolation. Sometimes she manages to convince them to join the clan.
Advantages & Disadvantages
Advantages:
Her base power is 8, which is good for a 3*.
Her ability gives you two life back, after you've won with her.
The clan bonus is the same as her ability, which also gives you two life back.
Her ability helps to widen the gap between you and your opponent.
If you have both her ability and bonus activated, you'll receive up to four life back.
Because of her base damage and her ability, she doesn't have to worry about damage reducers.
SoA doesn't really bother her, since she can rely on the Jungo's bonus.
SoB also doesn't bother her, since her ability is the same as her bonus.
Disadvantages:
Her base damage is 2, which is low for a 3*.
Her ability makes her predictable at times.
Her main weakness are all-stops, which prevent her from getting life back.
She has competition from the other 3* in Jungo.
Card Artwork
LV 1.
LV 2.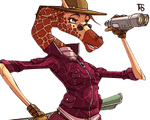 LV 3.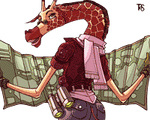 Full Artwork
Ad blocker interference detected!
Wikia is a free-to-use site that makes money from advertising. We have a modified experience for viewers using ad blockers

Wikia is not accessible if you've made further modifications. Remove the custom ad blocker rule(s) and the page will load as expected.