Background
Shakra is one of the star attractions of the amazing Freaks Circus, but after an argument with Ataoualpet, he realizes that he really belongs with the Roots and decides to offer his wisdom and sword-swallowing talents to the clan.
Involvement
Strategy
Quotes
Trivia
Webcomic
Shakra appeared and played a supporting role in the B-Team saga when he joined as Roots' represetitive for Havok's group when Kiki was kidnapped along with several of the other clan's leaders. Not much was shown of his personality since his role was one of the smallest.
Card Artwork
LV 5.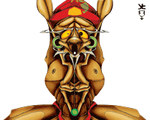 Full Artwork
External links
Ad blocker interference detected!
Wikia is a free-to-use site that makes money from advertising. We have a modified experience for viewers using ad blockers

Wikia is not accessible if you've made further modifications. Remove the custom ad blocker rule(s) and the page will load as expected.