Background
When she married Edd (and his bank account), Sharon was convinced she was finally going to lead the life of a princess she'd always dreamt of. But on realizing where her new husband's money came from (yes, Sharon is a bit slow on the uptake), she came down to earth with a bang and was on the verge of getting seriously depressed. Fortunately she still has the casino to distract her and at least there she's far from the clutches of the Mafia…
Missions
Star of the Casino: Inflict 250 damages with Sharon (unlocked by completing Triumphant Round)
Advantages & Disadvantages
Advantages:
Her base power is 7, which is good for a 3*.
Her ability increases her damage by two, making her a potential 7/5. If you fury with her, she becomes a 7/7.
Her ability makes her a good bluff, since your opponent will think you are planning to inflict damage on them.
The clan bonus removes up to 12 attack from your opponent, which helps in low-pill fights.
Disadvantages:
Her base damage is 3, which is low for a 3*.
She is weak against SoA, since she must stick with her low base damage of three.
She is also weak against SoB, since she cannot reduce her opponent's attack and must rely on her base power.
Her main weakness are all-stops, since she must rely on nothing but her base stats.
She has competition from the other 3* in Montana.
Webcomic
Sharon has made an appearance (third level form) in the official webcomic in the "Montana Day Afternoon" where her and her husband, Edd, have a tiff over him not paying enough attention to her. But the two managed to patch things up in the end when Edd closes part of Borgia for a date and gets her a necklace.
Trivia
Sharon's name comes from the actress, Sharon Stone, who played a mafia wife in the movie, Casino.
Card Artwork
Full Artwork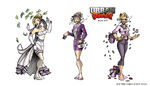 Ad blocker interference detected!
Wikia is a free-to-use site that makes money from advertising. We have a modified experience for viewers using ad blockers

Wikia is not accessible if you've made further modifications. Remove the custom ad blocker rule(s) and the page will load as expected.