Background
Sheitane always had a passion for everything to do with the occult and magic. But one night, while she was exploring the network of caves and tunnels beneath the City, a magical spider gave her the gift of predicting the future, in exchange for her soul. Since then, Sheitane is Clint City's most famous future teller. It's just a shame that her new friends are no where to be seen...
Advantages & Disadvantages
Advantages:
Disadvantages:
Trivia
Her name is based on the word 'sheitan', which means 'fiend' or 'evil spirit'. It is also the title of a 2006 French black comedy/horror film.
She is the only card in UR so far, whose stats stay the same throughout her levels.
Card Artwork
Full Artwork
LV 1.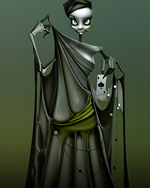 External links
Ad blocker interference detected!
Wikia is a free-to-use site that makes money from advertising. We have a modified experience for viewers using ad blockers

Wikia is not accessible if you've made further modifications. Remove the custom ad blocker rule(s) and the page will load as expected.