Background
Sigmund GHEIST is an idealist. He secretly dreams of a perfect world in which he is the absolute master and all the other humans are his devoted slaves, living in peace and harmony. For this dream to become a reality, he has built up a secret organization around him, which he has given his name: GHEIST.
Webcomic
In comic book continuity, he is allegedly kidnapped by Zlatar in an attempt to control all the leaders of the clans. In the second part of "Through the Cauldron" it was revealed that he was in the mirror world (1st level form), planning something with Dark Copper. Though if this Sigmund is the mirror world's version, GHEIST failed in rescuing him or he's in the mirror world by his own free will is not explained.
Missions
Sigmund's Heir: Win 1,000 fights with at least 2 Gheist.
Advantages and Disadvantages of the card
Advantages:
His base damage is 8, which is good for a 4*.
His ability takes away five damage from your opponent, which helps in case you are being KO'ed.
The minimum for his ability is three, which is low.
The clan bonus cancels an opposing card's ability, which helps to make fights easier.
Disadvantages:
His base power is 2, which is very low for a 4*.
His main weakness is SoA, since he can't reduce his opponent's damage, and is left with only his base stats.
He doesn't make a good bluff, due to his low base power.
He is a Cr, and as such, he is very expensive.
He has competition from the other 4* in GHEIST.
He is a 4*, so he takes up room in your deck.
Tactics
Most of the time you're not going to win with him so you should ignore the 8 damage and just use him against high damage cards which he will lose against and remove 5 damage (Min 3).
Trivia
Card Artwork
LV 4.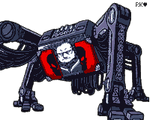 Full Artwork
Useful links
Ad blocker interference detected!
Wikia is a free-to-use site that makes money from advertising. We have a modified experience for viewers using ad blockers

Wikia is not accessible if you've made further modifications. Remove the custom ad blocker rule(s) and the page will load as expected.