Background
At Junkz raves, whoever's spinning the discs, Sireen never listens to the music. She plays her own music and dances to her own beat. And woe betides anyone who happens to overhear her music as they then become unable to resist her and forever subject to her will.
Advantages & Disadvantages
Advantages:
Disadvantages:
Trivia
Card Artwork
LV 4.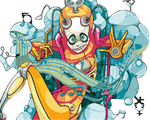 Full Artwork
External links
Ad blocker interference detected!
Wikia is a free-to-use site that makes money from advertising. We have a modified experience for viewers using ad blockers

Wikia is not accessible if you've made further modifications. Remove the custom ad blocker rule(s) and the page will load as expected.