Background
During a raid on a GHEIST base, Rescue stumbled across the plans for a fearsome fighter robot. Seizing the opportunity, they brought back the Xterminator 243 prototype to re-programme it. Renamed Sledg, he's become a formidable piece of equipment at the service of the city's inhabitants.
Missions
Come On Guys II: Inflict 100 Damages with Sledg (30/03/2011 - 01/05/2011)
Advantages & Disadvantages
Advantages:
His base power is 7, which is very good for a 5*.
His base damage is 7, which is very good for a 5*. This also allows you to do a 2HKO with some other Rescue cards.
His ability prevents cards with SoB from cancelling his bonus, which helps a lot when going up against Nightmare and Piranas.
SoA doesn't weaken him much, meaning even if he loses his ability, he still has his bonus to overcome that.
He is a common, so he is easy to get in the packs.
The Rescue clan bonus increases his attack by 3 for each Rescue card on his user's hand, meaning he could have an additional attack of up to 12.
Disadvantages:
His main weakness are all-stops, who cancel both his ability and bonus.
Though his ability prevents his bonus from being cancelled, it does nothing against attack-reducing cards.
He is a 5*, so he takes up a lot of room in your deck.
He is quite expensive for a common card.
He has competition from the other 5* in Rescue.
Like many Rescue cards, he is often banned from ELO.
Strategy
Sledg can be considered among the most formidable Rescue cards. Not only because of his ability, that protects his bonus, he also boasts an incredible raw stats, making him technically invincible.
If you opt not to bother defeating him, use damage reducers to block his damage. Alternatively, you can use cards with Defeat abilities as bluffs. Otherwise, if you want to defeat him, it is highly recommended that you have attack reducers or all-stops in your hand, or at least, power reducers.
Trivia
Sledg is based off of Hymie from the original version of Get Smart. Like Sledg, Hymie was also a robot captured from an evil organization.
In his first form, you can see the GHEIST logo taped over.
In his departure announcement, it is mentioned that Sledg felt redundant due to the arrival of Buddy, who took more initiative and was better at taking orders. As a result, he left to find a place where he could be of some use.
Card Artwork
LV 5.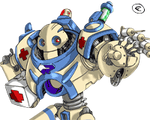 Full Artwork
Ad blocker interference detected!
Wikia is a free-to-use site that makes money from advertising. We have a modified experience for viewers using ad blockers

Wikia is not accessible if you've made further modifications. Remove the custom ad blocker rule(s) and the page will load as expected.