Background
Much to his annoyance, Somba is often called upon by his uncle Dagouba to help him out in his long nights spent observing the stars. Fortunately for him however, Somba always seems to find a way to get out of it and instead heads off to explore the remains of the Zoo or to roam the streets of Clint City.
Missions
On the Snow Roads: Win 10 fights with a knockout from Somba. (20/11/2015 - 24/01/2016)
Card Artwork
LV 1.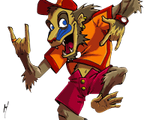 LV 2.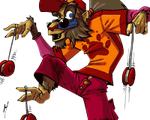 Full Artwork
From left ro right: Lv 1 and Lv 2
Ad blocker interference detected!
Wikia is a free-to-use site that makes money from advertising. We have a modified experience for viewers using ad blockers

Wikia is not accessible if you've made further modifications. Remove the custom ad blocker rule(s) and the page will load as expected.