Background
There are some secrets that are best kept quiet, like Cortez's precise role in setting up the Berzerk clan. Unfortunately for him, Spyke witnessed the whole thing and so Cortez was forced to silence him. But as you can't kill a fellow Berzerk, he had to find other ways to stop him from talking, which is a great shame as apparently Spyke was also privy to the secret of Room 13…
Web comic
Spyke has a one shot scene in Room 13 when Cortez is explaining what was in Room 13 and the story of the gas leak that created the Berzerk. Since he happened to be at the wrong place at the wrong time, he saw the canisters and Xantiax Robb and was silenced as a result.
Missions
Silent Killer: Inflict 250 Damages with Spyke
Advantages and Disadvantages
Advantages:
His power is 7, which is good for 4*.
His damage is 5, and becomes 7 when fury is activated, allowing you to 2HKO with some of the other members of Berzerk.
His ability reduces an opponent's power by 4, making fights with him a lot easier.
The minimum for his ability is 4, which is low.
His bonus removes 2 life points from your opponent, unless they have reached the minimum.
Disadvantages:
He is weak when going up against other power reducers, whose power is lower or the same as the minimum, such as: Caelus Cr, Tula, Oshitsune, and Robb Cr.
He has trouble against cards, like: Toro Cr, Rolph, Striker Cr, Alexei and Jerry, who not only reduce his power, but also stop his ability.
He is also weak when going up against cards that not only reduce his power, but also his attack, such as: Herman and Nellie.
He has competition from the other 4*s in Berzerk.
He is a 4*, so he takes up room in your deck.
Tactics
Trivia
There's a possible contradiction between Cortez's Bio and Spyke's one... since no one living knows the secret of room 13. However Spyke's release means that there is someone alive who knows what is in room 13. Also, Spyke being bound and gagged shows that Cortez is a very cautious man, and therefore, just as Spyke's bio implies, he could be the one behind the Xantiax gas leak.
His appearance is based off of Ace Ventura, while his name was based off Ventura's Capuchin monkey, Spike.
In the promo of the Berzerk clan, a silhouette of what looks like Spyke is seen standing beside Room 13, just as he was contaminated and beginning to transform.
Card Artwork
LV 4.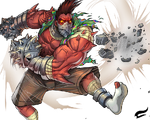 Full Artwork
Useful links
Ad blocker interference detected!
Wikia is a free-to-use site that makes money from advertising. We have a modified experience for viewers using ad blockers

Wikia is not accessible if you've made further modifications. Remove the custom ad blocker rule(s) and the page will load as expected.