Background
All set for a promising career as a pop singer, young Stella had a complete change of heart after coming across Guru Cr's theories of transdimensional transcendence. Ever since she's been performing as the Kosmik Kantahtriz of the Volkahn band, in which she pushes her incredible voice to the limits of all human and extra-terrestrial understanding.
Missions
Kosmik Kommandoh: Win 200 rounds with Stella
Advantages & Disadvantages
Advantages:
Disadvantages:
Trivia
She is based off of Stella from the movie, Interstella 5555: The 5tory of the 5ecret 5tar 5ystem, which was made by the famous House group, Daft Punk. Both instances are related to space.
Her name, Stella, means 'star', which fits in with the clan's intergalactic theme.
She could also be a reference to Stella Vander, the lead singer of the French band, Magma. Additionally, the name of Stella's band is "Volkhan", which is a corruption of the word "Volcan" (French for 'volcano').
Card Artwork
LV 5.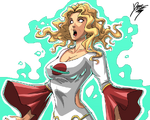 Full Artwork
Ad blocker interference detected!
Wikia is a free-to-use site that makes money from advertising. We have a modified experience for viewers using ad blockers

Wikia is not accessible if you've made further modifications. Remove the custom ad blocker rule(s) and the page will load as expected.