<format> Junkz</format>
       </data>
       <data source="ability">
           <label> Ability</label>
           <default>Unknown</default>
       </data>
       <data source="bonus">
           <label> Bonus</label>
           <default>Attack +8</default>
       </data>
       <data source="rarity">
           <label>Rarity</label>
           <default>Unknown</default>
           <format>Rare</format>
       </data>
       <data source="gender">
           <label>Gender</label>
           <default>Unknown</default>
           <format> Male</format>
       </data>
   </group>
   <group>
       <header>3 Stars (

★★★

)</header>
       <data source="level1">
           <label>Stats Lv 1</label>
           <format> 7  1 </format>
       </data>
       <data source="level2">
           <label>Stats Lv 2</label>
           <format> 8  2 (Gains Ability)</format>
       </data>
       <data source="level3">
           <label>Stats Lv 3</label>
           <format> 8  3 </format>
       </data>
       <data source="level4">
           <label>Stats Lv 4</label>
           <format>    </format>
       </data>
       <data source="level5">
           <label>Stats Lv 5</label>
           <format>    </format>
       </data>
   </group>
   <group>
       <header>Meta Info</header>
       <data source="released">
           <label>Released</label>
           <default>Unknown</default>
       </data>
       <data source="retired">
           <label>Retired</label>
       </data>
       <data source="artist">
           <label>Artist</label>
           <default>Unknown</default>
       </data>
   </group>

</infobox>
Background
There's only one thing Stiko likes more than partying with his Junkz buddies and that's paint ball. One particularly drunken evening, he had a total brainwave and ever since has been livening up their parties by firing multi-colored balls at anything that moves, including at the heads of their enemies who come looking for trouble with the Junkz on their own patch.
Advantages & Disadvantages
Advantages:
He has an 8 power which is good.
His ability secures his good power.
His bonus adds 8 attack to him, making it easier to win a round.
Disadvantages:
Missions
For the love of art V: Inflict 100 Damages with Stiko in elo mode (31 May 2016 - 1 July 2016)
Trivia
His name could be a reference to the term "Stick 'em up," due to his love for paintball.
He was originally supposed to be a GHEIST drawn by Phallodie.
Card Artwork
LV 1.
LV 2.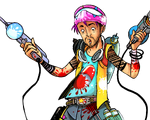 LV 3.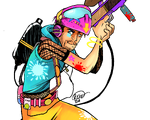 Full Artwork