Background
Officially his job is to sweep the corridors of the GHEIST HQ and keep the rest room stocked up with toilet paper (and also to clean up after Leviatonn's meals, which is no bundle of laughs), but the truth is that Strynge works as a spy for Sigmund Cr and is responsible for keeping a beady eye on everyone.
Webcomic
This card hasnt appeared in an urban rivals web comic yet.
Missions
None at the moment.
Trivia
His name is based on either the word, Syringe or strange.
Advantages and Disadvantages of the card
Advantages:
Disadvantages:
Tactics
Card Artwork
Full Artwork
From left to right LV 1, LV 2 and LV 3.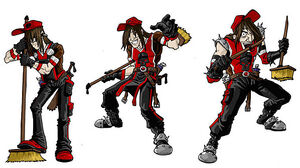 Usefull links
Ad blocker interference detected!
Wikia is a free-to-use site that makes money from advertising. We have a modified experience for viewers using ad blockers

Wikia is not accessible if you've made further modifications. Remove the custom ad blocker rule(s) and the page will load as expected.