Background
Everyone knows for a fact that words are a greater threat than weapons. All the more so when one masters the very ancient (and unstable) technique of the calligraphic dragon which causes words to emerge, made up of pure and highly explosive energy, and allows you to throw them at your enemies' heads. Indeed, in such a case words are more fatal than weapons.
Trivia
Sung Tsu is based off of the ancient Chinese general, Sun Tzu. Sun Tzu is mainly know for his book the Art of War, a book on war strategies and outsmarting one's opponents that is still being used today.
Card Artwork
LV 2.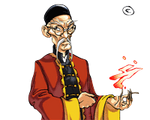 LV 5.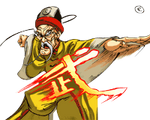 Full Artwork
Ad blocker interference detected!
Wikia is a free-to-use site that makes money from advertising. We have a modified experience for viewers using ad blockers

Wikia is not accessible if you've made further modifications. Remove the custom ad blocker rule(s) and the page will load as expected.