Background
Working as a waitress at the Big Fat Burger, Suzie thinks she's really hit rock bottom when an enraged customer informs her that her fries taste of cardboard and plants a knife in her arm (in Clint City food is no laughing matter). To her great surprise, she realizes not only can she not feel any pain but the wound heals up miraculously. Deciding then and there to dump her dodgy boss and his rude customers, she joins the Rescue in order to offer up her magic powers to the service of others.
Advantages & Disadvantages
Advantages:
Disadvantages:
Trivia
Card Artwork
LV 4.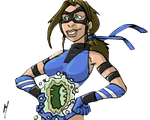 Full Artwork
From left to right: Lv 1, Lv 2, Lv 3 and Lv 4
External links
Ad blocker interference detected!
Wikia is a free-to-use site that makes money from advertising. We have a modified experience for viewers using ad blockers

Wikia is not accessible if you've made further modifications. Remove the custom ad blocker rule(s) and the page will load as expected.