Background
The sole heir from a wealthy family, Tafa has always been attracted to the Ulu Watu's simple and natural way of life. At 21, she sets up the Koolklimax Foundation whose goal is to provide financial support to surfer's projects. She is 100% committed to the clan and doesn't hesitate to make her fists heard even though she's only little.
Missions
The Founding Mother: Inflict 60 Damages with Tafa (17/01/2014 - 23/03/2014)
Card Artwork
LV 1.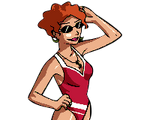 LV 2.
LV 3.
Full Artwork
Ad blocker interference detected!
Wikia is a free-to-use site that makes money from advertising. We have a modified experience for viewers using ad blockers

Wikia is not accessible if you've made further modifications. Remove the custom ad blocker rule(s) and the page will load as expected.