| | |
| --- | --- |
| Started | Febuary 12, 2006 |
| First Card | Natrang |
| Ended | June 28, 2007 |
| Last Card | Rass |
Team Chman was a group that did a lot of art for Urban Rivals (most of which was made for a precursor mobile phone game Clint). It was disbanded at the end of the year 2004. Their site is at: http://www.chman.com/ and their cards are...
Fan Art.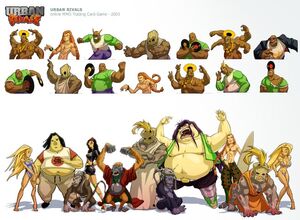 Ad blocker interference detected!
Wikia is a free-to-use site that makes money from advertising. We have a modified experience for viewers using ad blockers

Wikia is not accessible if you've made further modifications. Remove the custom ad blocker rule(s) and the page will load as expected.