This is one of the guilds on urban rivals.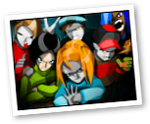 Description.
join if you want to have fun and get to the top. I like to join events especially with my guild. At the moment the requirements are to speak english so we understand each other and level 20 or higher please Finally please could you be active. Hope you join thanks Elliot
guild admins and founder.
Link to the guild.
Ad blocker interference detected!
Wikia is a free-to-use site that makes money from advertising. We have a modified experience for viewers using ad blockers

Wikia is not accessible if you've made further modifications. Remove the custom ad blocker rule(s) and the page will load as expected.