Background
Timmy should have listened to his mom when she told him not to accept candy from strangers and especially not to ever go near Candy Jack's store. Now Timmy hasn't got any choice but to join the Nightmare clan. That will teach him!
Missions
Classmate: Win 15 rounds with Timmy (20/11/2010 - 19/12/2010)
Advantages & Disadvantages
Advantages:
Disadvantages:
Webcomic
Timmy appeared as a human first before being exposed to Candy Jack's zombie powder-infused candies he was handing out during the city's big Halloween celebration. He was eventually snatched away by Nightmare and again by Sentinels who took him to the Rescue hospital. He was eventually cured when Robb started distributing the antidote.
Trivia
In the first and second level pics, Timmy is dressed like Ghostface from the Scream series. (The mask is lifted up.)
In the third pic, his appearance is based on a zombie (and part of his leg has rotted away).
Card Artwork
Full Artwork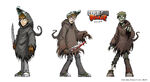 Ad blocker interference detected!
Wikia is a free-to-use site that makes money from advertising. We have a modified experience for viewers using ad blockers

Wikia is not accessible if you've made further modifications. Remove the custom ad blocker rule(s) and the page will load as expected.