Background
As the last remaining survivor of a very old family from Poldachie-Golgovine, Tomas has inherited the family sword that, as well as being quite decorative, is also well and truly cursed. Ever since he laid his hands on it, Tomas can't put it down and is condemned to constantly battle with the blood-thirsty demon that inhabits it. Just as well Jay and Aylen are there to help him, otherwise he'd have cracked up long ago, just like all his ancestors before him.
Missions
Advantages and Disadvantages
Advantages:
He has a high power of 8, which is good for a 5*.
His base damage is 6, which is also good.
His ability cancels an opposing card's bonus, which helps makes fights easier.
His stats make him an excellent bluff against your opponent.
His bonus ensures that his ability stays activated, unless he is facing an all stop.
Disadvantages:
He is a 5*, so he takes up quite a bit of room in your deck.
He has competition from the other 5* in Skeelz.
His ability is also useless against cards that have Protection: Bonus.
Trivia
Tomas is a member of the Death exploration class in the Academy. And the only one of three (Semedo) that hasn't been drawn by Phalloide (Dr Falkenstein (Fudge) and Andy Ld (Ples 001) are the other two).
Tomas is a parody of Mattrim Cauthon from the Wheel of Time series. Mattrim, like Tomas, possesses a cursed dagger that contains an evil being inside, which is slowly eating away at him.
He may also be a parody of Harry Potter. While Harry has a cursed mark on his forehead, Tomas possesses a cursed sword.
He might also be a nod to the Percy Jackson series. Percy Jackson gains a sword named Anaklusmos (Riptide), which is also cursed like Tomas's.
He could also be based off of the anime/manga called Blue Exorcist, where a boy finds out that his dad is Satan and has his Demon powers locked in a sword that he can unleash at will.
His name and appearance might be modeled after Tuomas Holopainen from the Finnish symphonic metal band Nightwish.
The fact that a shadow creature defends him could be a reference to the game Blue Dragon, in which you control characters with shadows that help them fight, and defend, just like his Blood Thirsty Demon of Rampage.
Card Artwork
LV 5.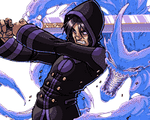 Full Artwork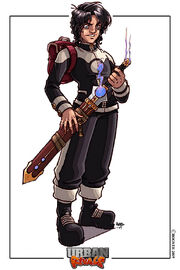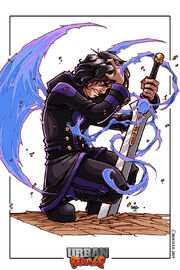 Ad blocker interference detected!
Wikia is a free-to-use site that makes money from advertising. We have a modified experience for viewers using ad blockers

Wikia is not accessible if you've made further modifications. Remove the custom ad blocker rule(s) and the page will load as expected.