Background
As an accountant in a shoe factory in Poldachie-Golgovine, Trey didn't lead a very exciting life. But while out on the town one night, Bloodh - who was on the look-out for an accountant to oversee the sharing out of the spoils between his crew members - convinced him to join their ranks. Since then Trey has been one happy accountant.
Involvement
Strategy
Missions
To Hell With Them!: Win 16 pillz with Trey (11/4/2014 to 15/6/2014)
Quotes
Trivia
Card Artwork
Full Artwork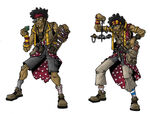 External links
Ad blocker interference detected!
Wikia is a free-to-use site that makes money from advertising. We have a modified experience for viewers using ad blockers

Wikia is not accessible if you've made further modifications. Remove the custom ad blocker rule(s) and the page will load as expected.