Background
Ulrich had never set foot on a boat and had certainly never dreamed of becoming a sailor, but after an unlucky bike accident, he ended up with an amputated hand and no choice but to find a new career. But no one knows better than Bloodh and his crew how to make strapping young lads with false hands feel welcome.
Missions
Give Me Five!: Block 50 damage with Ulrich
Advantages & Disadvantages
Advantages:
Disadvantages:
Trivia
Card Artwork
Full Artwork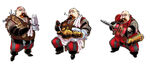 External links
Ad blocker interference detected!
Wikia is a free-to-use site that makes money from advertising. We have a modified experience for viewers using ad blockers

Wikia is not accessible if you've made further modifications. Remove the custom ad blocker rule(s) and the page will load as expected.