| | | |
| --- | --- | --- |
| Helpful Links. | Game Play | Collection |
What's new on Urban Rivals.com and Urban Rivals Wiki
July 24th, 2015

Thunder Bolt in Clint City
While a summer storm causes the buildings of Clint City to tremble, on a piece of waste ground two lone figures challenge one another in single combat; one a master of an ancient martial art and the other a warrior prince from the future. However, this dramatic scene, reminiscent of a great movie ending, is suddenly interrupted by cries of battle. Under the driving rain, a band of Raptors surges forth carrying upon a makeshift throne a massive and terrifying figure ...
Gats, the new Vortex warrior prince is all set to let rip in a Clint City from the past. Ramar, the Fang Pi Clang Kalaripayattu master, is on a mission to hone his skills. Free and dangerous, Raptors' wild guy, Moro, is let loose in town. Finally, Raptor chief Rex Sweig is all set to bring fear and terror to the inhabitants of Clint City.
July 10th, 2015

The Second Wave!
While the boiling sun beats down on the sizzling streets of Clint City, what appears to be a mirage is in fact a reality ! A new group of Raptors has broken through the police roadblocks and are leaving a trail of mayhem in their wake. It has to be said there's not a gentle one among them! Apart from perhaps one, who in spite of that is probably the most destructive of them all!
Ryujin, the rōnin, has some unexpected talents to unveil! Rattle, the ruthless ex-biker won't think twice about poisoning your existence! Don't go anywhere near Romana or July will chop you up into little pieces! Capri, the prisoner with the big heart, will wipe you out if you hurt the little critters!
June 26th, 2015

Jurassic Landing
The ground trembles as animals long believed extinct walk the streets of Clint City alongside a pack of desperate men and women. Only the remains of their uniforms still identify them as the convicts who disappeared on flight AVE13. Otherwise they'd be nothing but a bunch of wild savages who've broken through the city walls!
Having forcibly requisitioned the Clint City car scrap yard, this merry band of prisoners seem to be here for good. And now that they've crushed the Government's official police offensive, it remains to be seen how the other Clint City clans will react to their arrival...
The Raptors are here and have turned up in force with 6 to their name! Who out of Lucky, Scarol, Annie, Oakley, Wilde and Zaria will be the first of these terrible survivors from hell to join your team?
June 12th, 2015

On the Hunt of the Crazy Roots Guy!
For some time now, a strange phenomenon has been occurring in Clint City: in the Huracans' amateur wrestling ring, the All Stars' training field and the Riots' thermonium mine strange holes have been appearing that lead to perfectly rectangular, mysterious tunnels. It would seem that some crazy digging fanatic is turning the subsoils into a regular piece of holey cheese! One thing's for sure, the time has come to put a stop to it!
Discover the hero of Riotspolis! Argos, the Riots' fearless doggy! Always at the ready to bowl a few blows with his bat, is All Stars' cricket champion, Aamir! A heroine of the revolution! The Huracan's incredibly talented dancer, La Salerosa! A former geek goes back to nature with dire consequences for all! Markus, the slightly crazy Roots guy!
May 29th, 2015

Threat on the Beach
Most of the time the beautiful Ulu Watu creek is a rather fun place to hang out as soon as the warm weather invites itself into Clint City. This year though no one had banked on the dark plans of a little yeti up to no good! Having channeled a Berzerk's rage and a Sakrohm priestess' blaze of flames towards the beach in an attempt to wreak havoc, Brok's grandson is moving on to another plan to trick Tiwi! Oh and what you can spot in the distance is a fella trying to get away from a horde of pirates at his heels...
Wild and megalomaniac, Leopold - the princely Berzerk - is trying his best to stir up trouble! As she cleanses the Sakrohm's sacred flame, Hemera will also purify your soul! Tiwi's Machiavellian nemesis, Lowki, one of two Frozn geniuses, is up to his ears in mischief! Wooly , the very casual Ulu Watu treasure hunter, will unearth every buried gem down to the last!
May 15th, 2015

Air Disaster!
It's a catastrophe! Toro has decided to use the new GHEIST computerized weapon to hijack an airplane and make it crash on the Sentinel's HQ! And as almost all their members are currently at the Pile Tower watching the match of the new luchador, will there be enough of them there to stop the plane's descent? Fortunately, the Riots' latest flying machine could yet save the day once it's been properly tweaked by the two Sentinel gunsmiths!
New lightweight Huracan, Petit Coq, flies across the ring! The GHEIST's new computerized weapon, clone L Lace01, can get into any system! The Sentinel's forgotten gunsmith, Geoffrey, emerges from his workshop! Aeronautics engineer, Archimedes, takes off at full speed!
April 30th, 2015

Super-Charged Opponents
Since Mina's spectacular robbery, Clint City's most infamous and terrible collector is in a total and utter rage and has handed over seven zero sums and a couple of extraterrestrial trinkets to hire the services of the Vortex clan. Sera M1 and Florida Jane are on the case but Rahi Sledon's new invention might bring about early nightfall for the clan!
Dishing out pillzas by the hundreds, meet Giacomo, the Montana guy who wanted to outdo Pino! Trying to "pacify" Clint City with laser strikes: Glover the parasitical La Junta soldier! A collector with a very dodgy code of ethics: it's Van Heckton, the millionaire with no pity and no regrets! And finally, the Vortex's invincible crystal child metamorphosis: C Dusk!
April 17th, 2015

Girls in Force!
While the latest Freaks' show continues to be met with well deserved cries of horror, Solomon has organized an exceptional boxing match that will enable one woman to carve out a place for herself in the professional arena! Meanwhile the Rescue clan is once again fully operational thanks to their latest recruit and in the Frozn village, it's a sad day for new cryoplasma victims!
Pussycat boxer, Roxie is determined to show all those macho men what she's made of! Matriochka, the new Freaks' attraction, conjures up terror and morbid fascination under the big top! Phoebe, the new Rescue clan stretcher-bearer, sweeps Larry up into a whirlwind of speed! Frozn potholer, Eleanore is on the verge of making an amazing discovery!
April 3rd, 2015

Dimensional Fault on Deck!
A downpour of potions has fallen from the sky causing the opening up of a dimensional fault on board the Piranas' ship from which strange purple tentacles are emerging. But as Pilzken likes a lie-in on Friday, you'd better not count on him this time round! Fortunately however, the Skeelz specialist is back from his travels!
Roots' witch, Mildred, tries to make up for her mistakes! Dr Alma, the Piranas' Lady doctor, tests her instruments out on the raging tentacles! The Bangers' cursed saxophonist, Clifford, catches the mood of the day perfectly! Skeelz professor and monster hunter, Mandrak, to the rescue!

For past news check out the Urban Rivals Wiki news archive.
Helping out
To write a new article, just enter the article title in the box below.
Not sure where to start?
Adding content
Talk and more...
Check out the community portal to see what the community is working on, to give feedback or just to say hi.
Featured article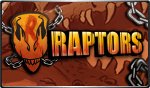 When a plane taking prisoners from Clint City to a new jail mysteriously disappeared, the Government was quick to hush it up. The truth is that following a strange breakdown, the plane disappeared into thin air in the Saudi desert to later crash in a lost world where Jurassic wildlife still prospered. Forced to come together under the leadership of Clint City's two most notorious criminals, the surviving prisoners battled against the hostile environment and ended up climbing the food chain. Now united under the name of the Raptors, the prisoners are back in town with lots of new "friends". They know full well that their plane was sabotaged and no law is going to stop them in their quest for vengeance!
Featured media