Background
Dark and mysterious, Vassili is the son of a Steppe Piratess and a Sword Master. Naturally reserved, he only speaks when it's absolutely necessary, using monosyllables such as "hey" "you" or "yep". The truth is Vassili likes to cut to the quick, which is why knife-throwing comes so easily to him.
Web comic
This card hasn't appeared in a web comic yet.
Missions
None at the moment.
Trivia
Vassili is the one who wounded Kerry, the leader of the Rescue clan by throwing a knife into her leg. Whether this was an accident or on purpose is unknown at this time.
Advantages and Disadvantages of the card
Advantages:
Disadvantages:
Tactics
Card Artwork
LV 4.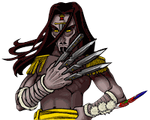 Full Artwork
Useful links
Ad blocker interference detected!
Wikia is a free-to-use site that makes money from advertising. We have a modified experience for viewers using ad blockers

Wikia is not accessible if you've made further modifications. Remove the custom ad blocker rule(s) and the page will load as expected.