<format> Junkz</format>
       </data>
       <data source="ability">
           <label> Ability</label>
           <default>Unknown</default>
       </data>
       <data source="bonus">
           <label> Bonus</label>
           <default>Attack +8</default>
       </data>
       <data source="rarity">
           <label>Rarity</label>
           <default>Unknown</default>
           <format>Common</format>
       </data>
       <data source="gender">
           <label>Gender</label>
           <default>Unknown</default>
           <format> Female</format>
       </data>
   </group>
   <group>
       <header>2 Stars (

★★

)</header>
       <data source="level1">
           <label>Stats Lv 1</label>
           <format> 3  1 </format>
       </data>
       <data source="level2">
           <label>Stats Lv 2</label>
           <format> 6  1 (Gains Ability)</format>
       </data>
       <data source="level3">
           <label>Stats Lv 3</label>
           <format>    </format>
       </data>
       <data source="level4">
           <label>Stats Lv 4</label>
           <format>    </format>
       </data>
       <data source="level5">
           <label>Stats Lv 5</label>
           <format>    </format>
       </data>
   </group>
   <group>
       <header>Meta Info</header>
       <data source="released">
           <label>Released</label>
           <default>Unknown</default>
       </data>
       <data source="retired">
           <label>Retired</label>
       </data>
       <data source="artist">
           <label>Artist</label>
           <default>Unknown</default>
       </data>
   </group>

</infobox>
Background
Veenyle is only 13 but she's already one of Clint City's top DJs. DJ Korr himself asked her to join the Junkz when she was just 11. She learned everything the Master could teach her and created her own sound. It's violent and chaotic, just like her!
Advantages & Disadvantages
Advantages:
She has six power which is somewhat good for a 2 star.
She is a two star so she doesn't take up much room in your deck.
Her ability reduces damage greatly and has a low minimum.
Her bonus adds 8 attack.
Disadvantages:
She has a 1 damage.
Without her bonus or ability she's weak.
Trivia
Veenyle's name comes from Vinyl records (AKA gramophone records).
When she and Marco went Cr, the background was changed in their honor.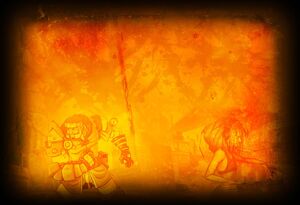 Card Artwork
Full Artwork