Background
Life for this former Miss Poldache has not always been easy. Exhausted by an endless string of gala appearances in the worst hick towns imaginable, Venus quickly sunk into a depression. Abandoned by the Miss Poldachie-Golgovine committee when she was on the verge of suicide, she was taken in by Guru who promised her a bright future.
Involvement
Strategy
Quotes
Trivia
Venus' name comes from both the planet and the Roman goddess of love and beauty with the same name.
Card Artwork
LV 4.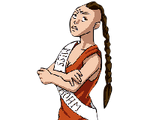 Full Artwork
Ad blocker interference detected!
Wikia is a free-to-use site that makes money from advertising. We have a modified experience for viewers using ad blockers

Wikia is not accessible if you've made further modifications. Remove the custom ad blocker rule(s) and the page will load as expected.