Background
Our peanut seller has got a head full of dreams: to get rich, spend a night with the famous Chloe, and above all, to open his own campsite. After selling his stock to Kiki, Warren can finally open the "Campsite of the Waves", but he's disappointed when Chloe refuses to come to the grand opening.
Trivia
His name could be a reference to the German word Waren, which means goods in English.
Card Artwork
LV 1.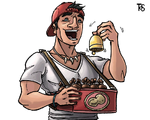 LV 2.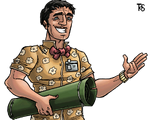 Full Artwork
Ad blocker interference detected!
Wikia is a free-to-use site that makes money from advertising. We have a modified experience for viewers using ad blockers

Wikia is not accessible if you've made further modifications. Remove the custom ad blocker rule(s) and the page will load as expected.