Background
After accepting a stupid bet, Wee Lee woke up lying next to his skateboard in critical condition wearing a duck suit. ER surgeons managed to save him, but his brain was permanently damaged causing him to no longer feel pain. Now that he's out of a coma, he wants to use this special ability to help the clan win even more stupid bets.
Involvement
Strategy
Quotes
Trivia
Card Artwork
LV 4.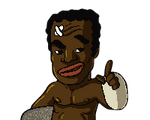 Full Artwork
See also
External links
Ad blocker interference detected!
Wikia is a free-to-use site that makes money from advertising. We have a modified experience for viewers using ad blockers

Wikia is not accessible if you've made further modifications. Remove the custom ad blocker rule(s) and the page will load as expected.