Background
When they saw Wesley, the vampire slayer, turn up, Rescue just assumed he'd come to hit on Elvira. But finally they had to admit that Wesley was actually pretty effective and that he and his beautiful companion made a formidable team. But perhaps all of that was just a roundabout way to get what he wanted.
Advantages & Disadvantages
Advantages:
Disadvantages:
Trivia
Card Artwork
Full Artwork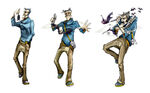 Ad blocker interference detected!
Wikia is a free-to-use site that makes money from advertising. We have a modified experience for viewers using ad blockers

Wikia is not accessible if you've made further modifications. Remove the custom ad blocker rule(s) and the page will load as expected.