Background
When Copper was told his dog had exceptional abilities, he didn't believe it straight away. However, you can't ignore the evidence and William really isn't like any other dog…
Missions
William, the Loyal Dog!: Inflict 80 damage with William (6/19/2015 - 23/8/2015)
Advantages & Disadvantages
Advantages:
Disadvantages:
Trivia
William can be seen in Zdrone's first level art; making him the first character to appear in another character's card.
The night vision goggles William is wearing resembles the same ones worn by Sam Fisher, the main protagonist from Tom Clancy's Splinter Cell series.
Card Artwork
LV 1.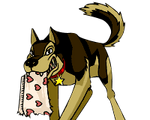 LV 2.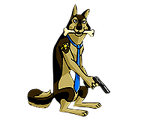 LV 3.
Full Artwork
Ad blocker interference detected!
Wikia is a free-to-use site that makes money from advertising. We have a modified experience for viewers using ad blockers

Wikia is not accessible if you've made further modifications. Remove the custom ad blocker rule(s) and the page will load as expected.