Background
This creature was produced in the GHEIST genetic laboratory and has exceptional physical abilities and a supernatural strength. However, his best weapon is his appearance which leaves all those who are unfortunate enough to cross him in a state of frozen terror.
Missions
None at the moment.
Advantages and Disadvantages of the card
Advantages:
8 damage is really high for a 5* card.
His ability means that he can usually win in low pillz fights.
Disadvantages:
XU52 has quite a low power so if you go up against another GHEIST deck or a Roots deck then XU52 is not that good. It can still be used as a bluff though.
He is quite expensive so if you are working with a small budget it could be a bit too much.
It is a rare so you might find it hard to find it in packs.
He is a 5* card and there are quite a few good GHEIST 5*s.
Trivia
Card Artwork
LV 5.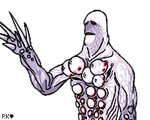 Full Artwork
Ad blocker interference detected!
Wikia is a free-to-use site that makes money from advertising. We have a modified experience for viewers using ad blockers

Wikia is not accessible if you've made further modifications. Remove the custom ad blocker rule(s) and the page will load as expected.