<format> Fang Pi Clang</format>
       </data>
       <data source="ability">
           <label> Ability</label>
           <default>Unknown</default>
       </data>
       <data source="bonus">
           <label> Bonus</label>
           <default>Damage +2</default>
       </data>
       <data source="rarity">
           <label>Rarity</label>
           <default>Unknown</default>
           <format>Uncommon</format>
       </data>
       <data source="gender">
           <label>Gender</label>
           <default>Unknown</default>
           <format> Female</format>
       </data>
   </group>
   <group>
       <header>3 Stars (

★★★

)</header>
       <data source="level1">
           <label>Stats Lv 1</label>
           <format> 4  1 </format>
       </data>
       <data source="level2">
           <label>Stats Lv 2</label>
           <format> 6  1 </format>
       </data>
       <data source="level3">
           <label>Stats Lv 3</label>
           <format> 7  3 (Gains Ability)</format>
       </data>
       <data source="level4">
           <label>Stats Lv 4</label>
           <format>    </format>
       </data>
       <data source="level5">
           <label>Stats Lv 5</label>
           <format>    </format>
       </data>
   </group>
   <group>
       <header>Meta Info</header>
       <data source="released">
           <label>Released</label>
           <default>Unknown</default>
       </data>
       <data source="retired">
           <label>Retired</label>
       </data>
       <data source="artist">
           <label>Artist</label>
           <default>Unknown</default>
       </data>
   </group>

</infobox>
Background
Proper young ladies shouldn't punch and kick. To get around these parental constrictions, Yu Mei and her sister Pa Mei devised a formidable fighting technique using nothing but their hair. But while Pa Mei decided to live on her own in the Mountains and perfect her art, Yu Mei decided to join forces with the Fang Pi in order to offer up her skills to a noble cause.
Advantages & Disadvantages
Advantages:
She has 7 power which is good.
Her ability can make her damage equal to that of her opponent.
Her bonus adds 2 damage to her.
Disadvantages:
Her base damage is 3, which is somewhat low.
SOA and SOB both really hurt her.
Trivia
Yu Mei could partly be based off of Sindel from Mortal Kombat and Milia Rage from Guilty Gear, as all three use their hair as weapons to fight.
Card Artwork
LV 1.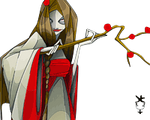 LV 2.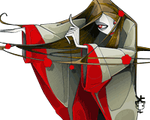 LV 3.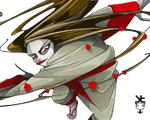 Full Artwork
From left to right: Level 1, Level 2, Level 3.
Physical Appearance
Yu Mei is supposedly and presumable a nobility by looks; she is a thin woman that appears to be slouching when standing. Her skin tone is practically pale-white. Yu Mei uses her hair as weapons, so it is incredibly long and slick. Her hair color is partially light brown-auburn. Apparently, she wears a lot of small red sakura as 'corsages'. She wears a large, loose white kimono with crimson(blood) hemlines. Her obi covers her entire stomach. Although she wears a kimono, it seems to be stitched together with almost all the parts of the clothing, making it appear like bloody moth wings when spread open.
In her Level 1 artwork, Yu Mei spreads her hair in form of sakura tree branches. She wears a pair of red shoes that appears a bit like tabis.
In her Level 2 artwork, Yu Mei spreads her hair in more like a scythe shape. Still in form of 'vines'. Instead of the same footwear, she changed into a tall geta with red straps.
In her Level 3(last) artwork, Yu Mei spreads her hair somewhat like a pinwheel or chakram, yet like a whip. She changed her footwear again; she now wears a pair of flip-flop with red thongs.