Background
Voted fives times running best cleaner of the Clint City pools, Zack wanted to really put himself to the challenge and see what he was truly capable of. So, he quit his job and joined the Ulu Watu to have a go at cleaning up the oceans... Good luck, Zack!
Involvement
Strategy
Quotes
Trivia
Card Artwork
LV 4.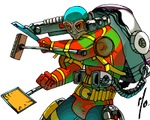 Full Artwork

External links
Ad blocker interference detected!
Wikia is a free-to-use site that makes money from advertising. We have a modified experience for viewers using ad blockers

Wikia is not accessible if you've made further modifications. Remove the custom ad blocker rule(s) and the page will load as expected.