Background
Developed from a stapple machine, Z-Drone soon showed a real talent for licking stamps, photocopying documents, cleaning the toilets with a toothbrush, interrogating hostages and freeing suspects! According to his creator, Robin, if Z-Drone had his own mind and the ability to travel through time, he'd be perfect.
web comic
Trivia
The part of his bio "interrogating hostages and freeing suspects" could be some sort of typo.
In his third level, he could be based off of the robots from The Terminator.
He can be seen (as a silhouette) in his final level form, walking through the hallway in the back of Sentinel's game screen.
In X-0DUS' first level art (full artwork), Zdrone's busted torso can be found under his foot.
Card Artwork
LV 4.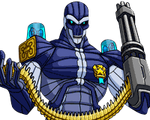 Full Artwork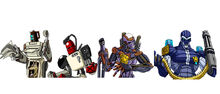 Ad blocker interference detected!
Wikia is a free-to-use site that makes money from advertising. We have a modified experience for viewers using ad blockers

Wikia is not accessible if you've made further modifications. Remove the custom ad blocker rule(s) and the page will load as expected.