Background
After being defeated by Kuei in the semi-finals of the Shokan monks' grand tournament, Zinfrid spent 3 years in the Northern Mountains with just the bears for company, training and fine tuning his fighting technique. Finally feeling ready, he's rejoined the Fang Pi Clang and is now just biding his time before challenging Kuei again.
Missions
Revenge of the Bear: Win 50 rounds with Zinfrid.
Advantages & Disadvantages
Advantages:
Disadvantages:
Trivia
In the John Sein art files, Zinfrid is know as "Bear."
Card Artwork
LV 4.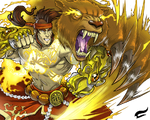 Full Artwork
LV 4.
Ad blocker interference detected!
Wikia is a free-to-use site that makes money from advertising. We have a modified experience for viewers using ad blockers

Wikia is not accessible if you've made further modifications. Remove the custom ad blocker rule(s) and the page will load as expected.